As sweater weather rolls around again, so does the candy corn, pumpkins, and black cats. This Halloween Candy & Kitties Pattern Collection is a combination of patterns I made in the past with new Halloween themed kawaii black cats. On my Spoonflower shop, the Halloween Bucket pattern has been getting increased sales so that had inspired me to revisit this collection.
From taking courses on Skillshare and reading of designers' blogs, I have learned that it is important to add emotional elements and to tell a story with my designs. Adding emotional triggers bond design with someone's lifestyle. From observing myself, I know that I gravitate towards designs that incorporate things I love such as cats, succulents, and Nintendo games.
Posting these Halloween Kitties on my Instagram has gotten a positive reaction and more engagement than previous designs. Personally, I don't want to be labeled as a Kawaii designer, as there are many styles that I love, but I do hope to continue my cat theme in future collections.
Shop Halloween Decor on Society6
Shop for Halloween Decor such as pillows, throw blankets, cushions, shower curtains, bedding, phone cases, backpacks, zipper bags, and mugs.

I can upload more patterns by request. (As a one-woman show, added all the designs has a ton of time.)
Halloween Kitties on ShopEmilyG on Etsy.
Purchase Clip Art & Pattern Files
On Sale now! Perfect for making stickers, scrapbooking, crafting projects, and more.
Purchase Fabric
This collection is available on Spoonflower.
13 Halloween Kitty Stickers
Purchase my designs as stickers from the ShopEmilyG on Etsy.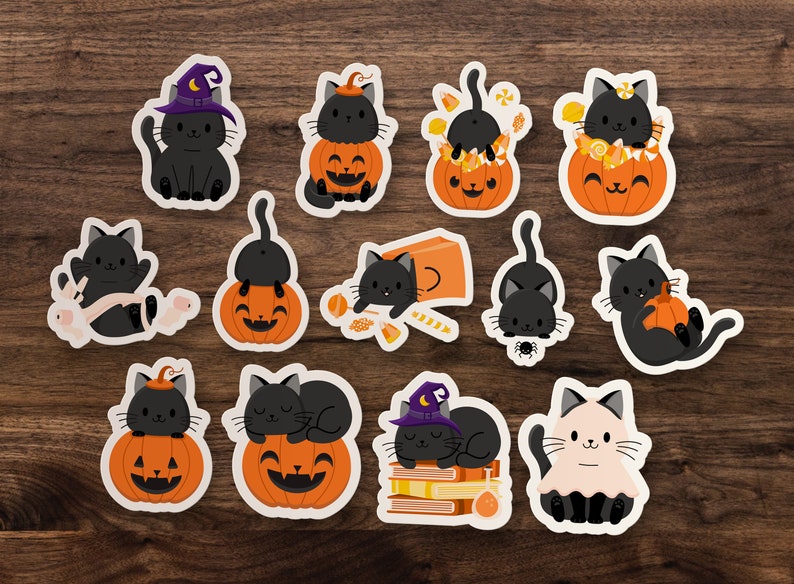 Need a Pattern Design?
Contact me to contract me for surface pattern design.
Want free daily & monthly planners?
Pin an image below, please.